This step-by-step guide will walk you through the process of posting a job on our platform.
The job posting process can be initiated from the "Post a Job" button in 3 locations:
Main menu at the top of the site
Clicking Hire on the main menu and then Post a Job
Underneath the Jobs section of your dashboard

Required Fields:
1. Primary Practice Area
2. Areas of Expertise
We recommend choosing 2-5 areas of expertise for optimal recommendations, but the form will allow 1-12 to be selected.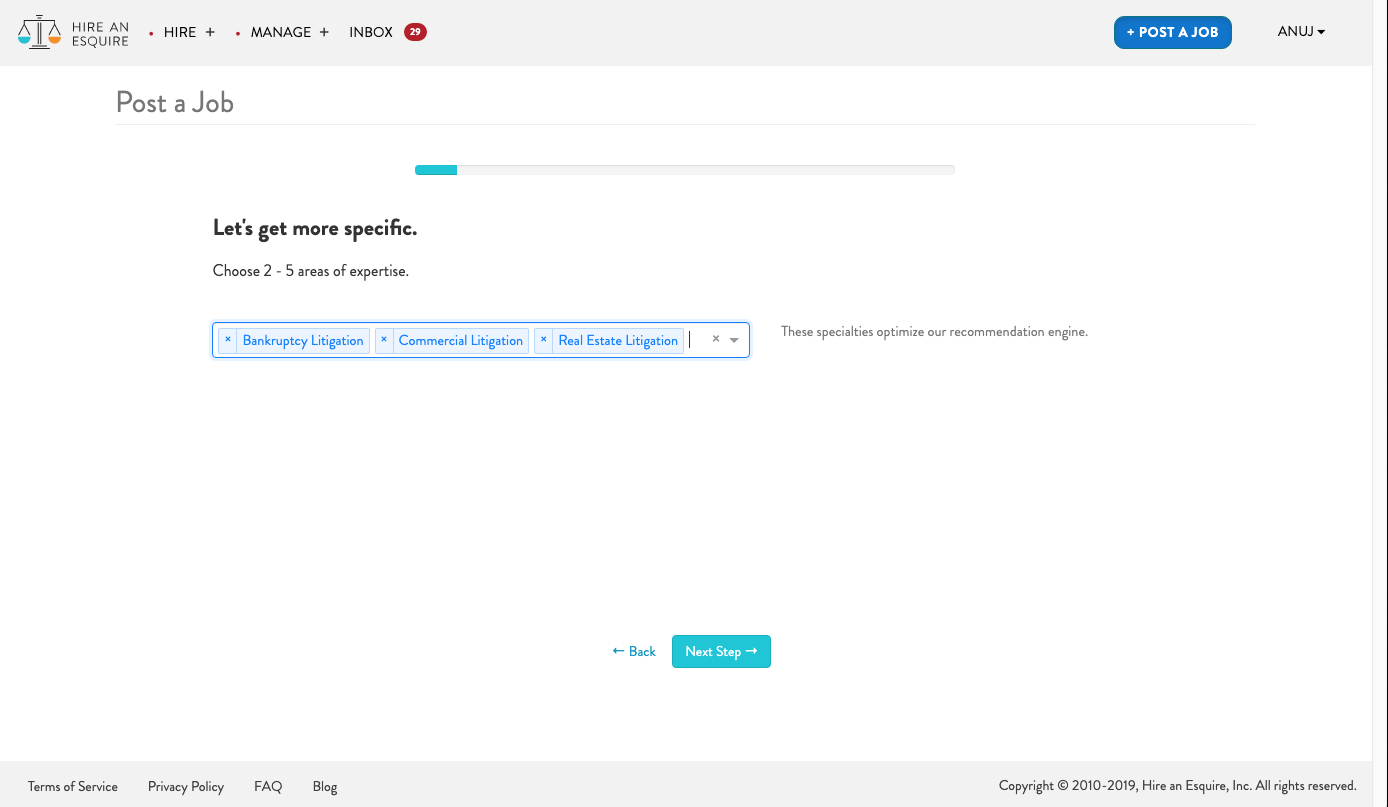 3. Location
If "This is a remote job" is checked, the "Cities" field will disappear.
If "This is a remote job" is not checked, then at least 1 city is required.
For the "Cities" field, a city and state are required and it must be selected from the dropdown menu.
4. Type of Legal Professional
At least one of "Attorneys" or "Non-attorney legal professionals" must be checked. Both can be checked if desired.
The options available in the "Position Type" drop-down will change depending on which of the above are checked.
5. Experience Range
Entry-level (0-2 years experience)
Junior (2-4 years experience)
Mid-level (4-7 years experience)
Senior (7+ years experience)
Any
6. Job Title
A suggested job title will automatically be generated based on the information provided but you can customize this title as desired.
7. Job Requirements
The options presented are pulled from the previously selected primary practice area and the contractor type (attorney or non-attorney).
Any number of job requirements can be selected as "Required", "Preferred", or "Not Necessary."
8. Duration
Start date
Estimated project length
Estimated humber of hours per week the contractor will be expected to work
Note: Don't worry if you accidentally close the browser or want to revisit the listing later, changes are saved at each step of this process when the "Next Step" button is clicked.
Optional Fields:
1. Languages
Click the "Add a Language Requirement" button to add a new language requirement, then select a Language and Proficiency.
2. Bar Requirements
Optional.
This will only appear if "Attorney" was the only selected contractor type.
3. Job Analysis Form
We automatically test candidates on six competencies that are highly predictive across all roles.
You can select up to five additional competencies in order of importance. When choosing, consider the context of the job and the environment that the employee will be exposed to.
4. Description
This is where you will want to input any additional information or job requirements about your opening that haven't been covered so far!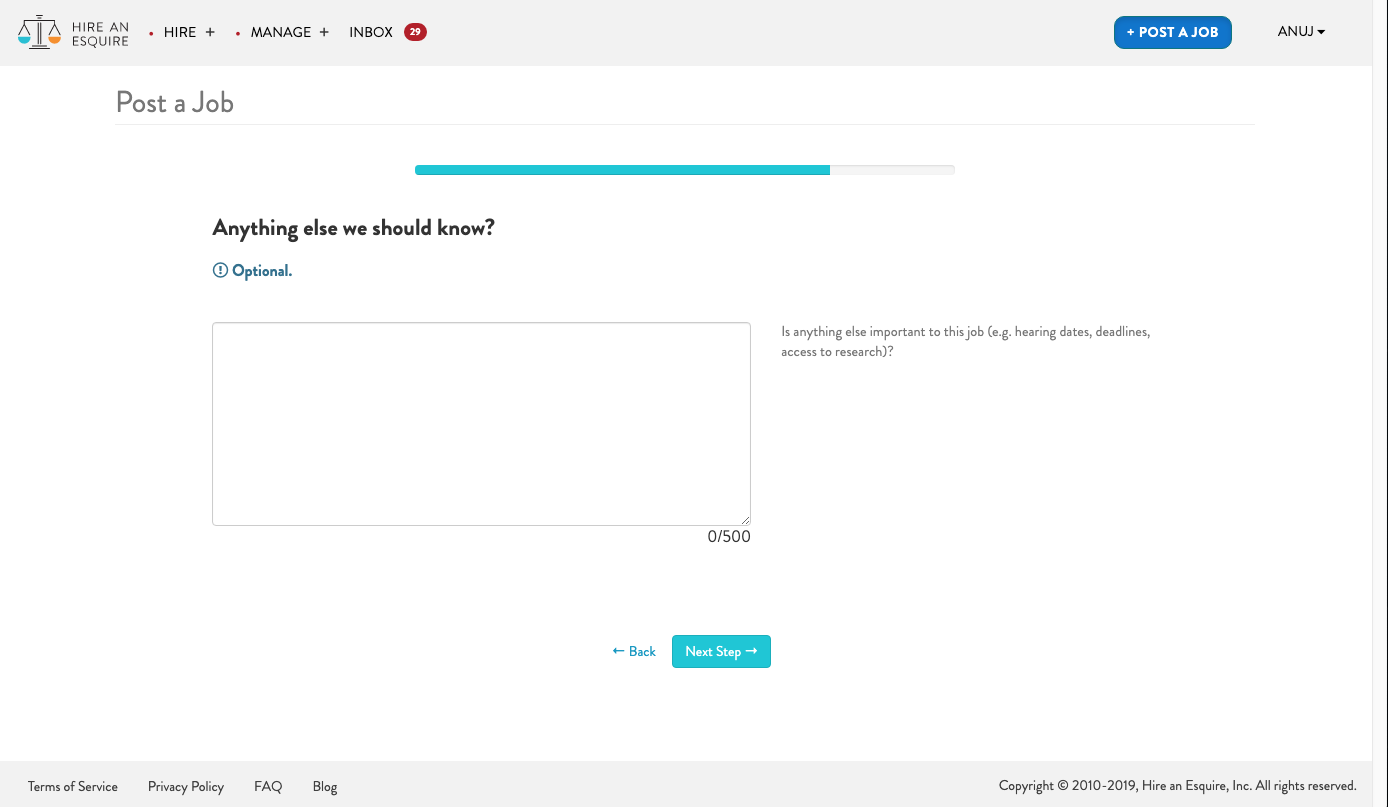 5. Project Parameters
Number of openings - If you need to hire more than one professional for this project, you can select the appropriate number here.
Hourly rate range - Jobs with an hourly rate range listed receive considerably more applications.
Make this job private - If you check this box, your job will not be searchable on or seen by our network. Only those applicants you specifically invite will be able to apply. Either way, your name and firm name are always kept private on the public job listing.
Congrats! You have finished your job listing.
The following page will present the option to publish the job listing. Once published, your job listing will be posted to the job board unless you elected to create a private listing.
If you decide to save the job as a draft, nothing will change. You will next reach the recommended candidates page which is select candidates in our database catered to the criteria you selected in your job listing. Posting a searchable job will also notify google of the posting so that it may be indexed on Google Jobs. Additionally, new job notifications will automatically be sent to select candidates based on practice area, geography, availability, and role type. Of course, if you have any difficulty posting your first job, you can reach our support team by clicking the chat icon located in the bottom right corner of your portal!